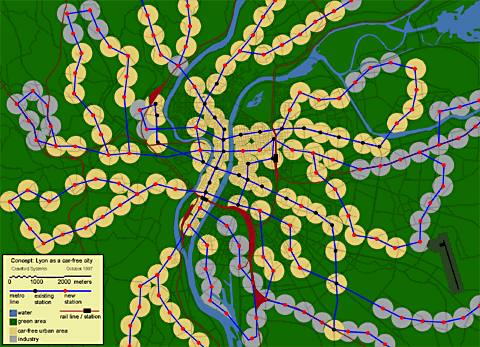 Above: Crawford's 1997 plan for a carfree Lyon.
JH Crawford, author of
Carfree Cities
and personal hero, has an article up on Carbusters, kickin' ass + droppin' science. He rocks my little world.
I do not foresee that cars will completely disappear. Eventually, their use in cities will be largely or entirely prohibited, but a transport mode that reaches rural areas is required, probably involving some continued use of private cars. The interface between rural cars and the city thus requires careful planning. I propose simply to build multi-story parking garages (preferably underground) at the city's edge for visitors' cars and car-sharing vehicles. City residents who regularly need a car to travel outside the city could rent a space. These garages must be linked to the city by good public transport. This is, of course, less convenient that driving directly to a destination within the city and will discourage people from using cars unnecessarily.
Read the whole article »